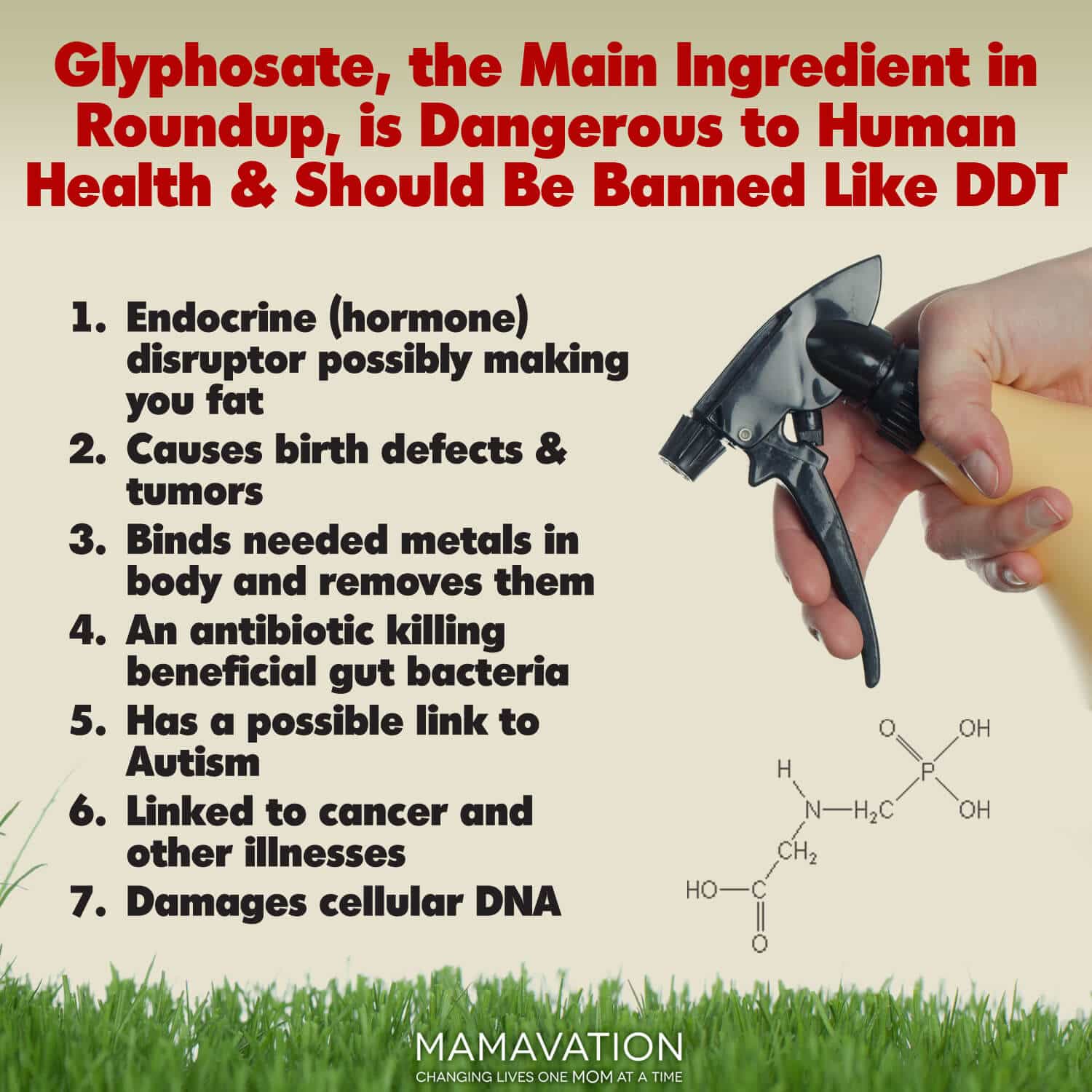 MISSFALL ÖKAR 300% &  MISSBILDNING 200% för exponerade människor I Argentina  HÄR 
Detta inlägg är viktigt och rör alla! Glyfosat är katastrof för allt biologiskt liv!  Det spärrar upptaget av mineraler som krävs för friska celler o organ samt samverkar med gifter o gör dem värre. 
Man vill ofta framhålla och påskina att rester och spår av glyfosat i livsmedel: "är så låga halter att det är ofarlig" ... när det just är låga halter och upprepad exponering för glyfosat som är ohälsosamt i längden.
Med tanke på att många glutenintoleranta och andra som lägger om sin kost ofta hänvisas till det man kallar "majsoket" så kan det vara på sin plats med ett inlägg rörande ett av vår tids mest använda gifter – Roundup (glyfosat).
Det som är djupt beklagligt är att glyfosat fick den 29 juni i år fick förlängt tillstånd tom år 2017 för användning inom EU. Trots den oenighet som råder i forskningsvärlden runt hälsoriskerna. Bland annat har 98 erkända cancerforskare ifrågasatt EFSA:s bedömning att glyfosat inte skulle vara cancerogent.
Just runt rester av glyfosat i grödor och färdiga produkter hör vi inte mycket om och jordbruksindustri har gjort sig beroende av detta gift och integrerat det som en naturlig del för att överhuvudtaget kunna fungera. Jordbrukets vinstmarginalerna är små, så väldigt få jordbrukare är beredda att ge upp detta gift lika lite som man vill ge upp den förkastliga konstgödningen NPK.
I mitten av förra seklet insektsmedlet ansågs insektsgiftet DDT välgörande, viktigt och hyllades. Det var en stor affär för tillverkarna. Men DDT ackumulerades i fettvävnaden hos djur och människor. Det misstänktes vara cancerframkallande. DDT förbjöds efter många år av konflikter i de flesta västländer på 70-talet. Sviterna av giftet DDT och dess utbredda användning kan ses än i dag.
läs mer -> http://gluten-celiaki.blogspot.se/…/roundup-glyfosat-en-av-…
Nedan berättas om innehållet här ; Roundup is sprayed on almost all non organic crops. It gets into the water supply from runoff and rain and is able to get into organic foods, as well as meats and sea life. In the past 20 years, the use of glyphosate has increased 6504% (from 1991 to 2010). Its found in 93% of Americans' urine.
Since glyphosate (like atrazine) acts as an herbicide, antibiotic, pesticide, and anti-parasitic, it can kill the plants that it is sprayed on.
This has has led to the need to create genetically modified (GMO) roundup-ready plants, that do not die from glyphosate use.
Weeds are also starting to gain resistance to roundup as well). R
The most common roundup ready crops include: Alfalfa  Barley , Canola (Rapeseed) R,Corn (Maize) ,Cotton ,Floriculture C rops Sorghum Soy Sugar Wheat 
It is illegal in Sri Lanka, The Netherlands, Argentina and Malta, but not the US or the complete EU.
It can cause gastrointestinal disorders, obesity, diabetes, heart disease, depression, autism, infertility, cancer and Alzheimer's disease. R
So if glyphosate is so toxic at low doses, why is it legal (this post is unrelated to politics)?
Well, this is because the acute effects from glyphosate (ie dysbiosis) are different than the effects of glyphosate from chronic exposure (ie Alzheimer's Disease).
How Glyphosate Affects The Body
Damages Mitochondrial Function
Glyphosate downregulates and inhibits mitochondria's ability to produce energy (ATP).
It causes cells and mitochondria to self destruct (apoptosis) and die.
It even synergizes with the other ingredients in roundup to make it even more toxic than glyphosate alone. R
Depletes The Body Of Nutrients
Glyphosate kills plants by interfering with the shikimate pathway, which is necessary to make metabolites such as hormones, nutrients and amino acids.
Although humans do not have the shikimate pathway, the bacteria that live in and on us do, and they are severely impacted by glyphosate's antimicrobial properties. R
We depend upon this pathway for our gut bacteria to provide us with:
CoQ10 R
Dopamine R
Epinephrine (Norepinephrine) R
Folate R
GABA R
Glycine R R
Melanin R
Melatonin R
Methionine (and selenomethionine) R
Phenylalanine R
Serine R
Serotonin (and sulfate transfer enzymes) R
Thyroid Hormones R
Tryptophan R
Tyrosine R
Vitamin E R
Vitamin K R
The decrease in these nutrients lead to depression, decreased ability to handle UV radiation from the sun, impaired sleep regulation, and decreased communication between the brain and gut. R
Glyphosate shifts minerals around in the body and puts them in the wrong places (such as manganese, cobalt, molybdenum, copper, iron, sulfur, and selenium), causing deficiency and toxicity at the same time. R R
Glyphosate also decreases the amount of calcium, magnesium, iron, and manganese (Mn) in plants. R R
On top of that, GMO/roundup ready food usually is depleted of Mn. R
Mn is essential for preventing mitochondrial damage, Alzheimer's disease, Parkinson's disease, prions disease, sperm damage, autism spectrum disorders, anxiety, and depression. R
Glyphosate oxidizes Mn in the body making it dangerous and toxic.
Disrupts Hormones
Glyphosate is an estrogenic substance, which means it works on and disrupts estrogen receptors.
It makes both men and women infertile, by damaging sperm and eggs. R R
Glyphosate suppresses aromatase, which is necessary to convert testosterone to estrogen, thus creating an imbalance in the regulation of sex hormones.
This even happens at extremely low doses (800x below the legal limits).
It also inhibits the ability to produce steroid hormones.
Glyphosate also depletes the body of methionine and selenium, which are necessary to make thyroid hormones. R
Also, glyphosate inhibits the body's ability to create active vitamin D, which its receptors are widely found in the brain and liver, thus glyphosate blocks the ability to make vitamin D from the sun. R
Active vitamin D has a myriad of benefits such as preventing inflammatory, autoimmune, cardiovascular, neuromuscular, and neurodegenerative diseases, as well as cancer.
Damages The Brain
Glyphosate is neurotoxic, which means it damages neurons.
Glyphosate also turns off the brains ability to heal itself after head trauma (such as a stroke or concussion).
This creates a constant immune/inflammatory response in the brain.
Glyphosate also increases ammonia in the gut, which is toxic to the liver and brain (causing impaired memory, shortened attention span, sleep–wake cycle disruption, brain edema, intracranial hypertension, seizures, ataxia, coma, and multiple sclerosis).
Glyphosate has been found to be in vaccines and can make vaccines more toxic to the body.
This is because glyphosate works synergistically with the aluminum, mercury, and glutamate in vaccines.
It can also take these heavy metals and transport them through the gut and across the blood brain barrier.
For example, aluminum combined with glyphosate can induce immunoexcitotoxicity (hyper-activation of the immune system) in the body and brain.
Glyphosate increases glutamate in the hippocampus, causing memory loss and oxidative stress on the brain.
It also decreases GABA and dopamine, contributing to the development of Parkinson's Disease.
Glyphosate also increases Lewy bodies in the brain.
Glyphosate has also been linked to the development of Amyotrophic Lateral Sclerosis (ALS).
Causes Liver and Kidney Disease
Glyphosate overloads the liver and kidneys.
Glyphosate inhibits the ability for humans to detox foreign chemicals (such as pesticides or drugs like tylenol).
It also disrupts the metabolism of cholesterol.
Glyphosate also increases the chance of developing cholestasis (impaired flow of bile from the liver), which inhibits the excretion of toxins.
This increases the chance of forming gallstones and developing pathogenic bacteria in the liver. R
It also increases the chances of developing non-alcoholic fatty liver disease (NAFLD), cirrhosis (scarring) and fibrosis of the liver.
Glyphosate exposure (even exposure at an early age) makes you more susceptible to developing metabolic syndrome and Type 2 Diabetes.
Glyphosate also depletes glutathione (GSH) and glutathione S transferase (GST) which are critical enzymes for liver detoxification of arsenic. As a consequence, excess arsenic in the kidneys causes acute kidney failure.
Also glyphosate increases oxalate release from plants, increasing the chance of developing kidney stones.
Creates Dysbiosis and Leaky Gut
Glyphosate directly causes dysbiosis (imbalance of good and bad bacteria). R
Glyphosate kills most of the beneficial strains of bacteria in our gut:
Bacillus badius R
Bifidobacterium adolescentis R
Enterococcus faecalis R
Lactobacillus spp. R
Many pathogenic strains of bacteria are resistant to glyphosate:
Clostridium botulinum R
Clostridium perfringens R
Salmonella Entritidis R
Salmonella Gallinarum R
Salmonella Typhimurium R
Glyphosate blocks Enterocccus's ability to inhibit clostridium infections, which is a part of the pathology of many inflammatory bowel diseases, such as Crohn's Disease.
It inhibits lactobacillus's ability to create lactic acid and break down phytate. R R
It also increases the growth of alfatoxins.
Certain Pseudomonas species in our gut will take glyphosate and metabolize it into formaldehyde, which is toxic to the brain.
Glyphosate can also make the microbiome resistant to antibiotics. R
It also reduces bacteria's ability to produce short chain fatty acids (SFCAs) such as butyrate.
Glyphosate also breaks down tight junctions in the gut. Tight junctions are necessary for keeping the cell wall in the gut together tightly so no foreign materials get into the blood.
Disruptions of tight junctions are also known as leaky gut or intestinal permeability. This increases the chance of developing celiac disease, gluten sensitivity, and food intolerances. So does the increased spraying of glyphosate on wheat over the years.
This is because the microbiome programs the immune system as to what is a friend or foe. This same mechanism (glyphosate from air exposure) increases the chances of developing lung diseases and asthma. R
Glyphosate exposure also directly stimulates a TH2 immune response.
There have been many studies linking glyphosate to cancer.
Breast Cancer R
Hodgkin lymphoma R
Leukemia R
Melanoma R
Multiple Myeloma R
Non-Hodgkin Lymphoma R
Developmental Defects
There is an increased incidence of severe birth defects in Argentina and Paraguay from glyphosate use in: Poultry R Young pigs R
Glyphosate also impairs mechanisms that help produce normal facial features and bone structure.
In pregnant and lactating rats given sub-lethal doses of glyphosate, their offspring had decreased loco-motor activity and appeared anxiety levels. https://mybiohack.com/…/glyphosate-zonulin-vitamin-manganes…
Miscarriages in town at heart of GM soy-growing area are running at three times – and birth defects at twice – national average
People living in an Argentine town in the heart of the GM soy and maize growing area suffer miscarriages at three times and birth defects at twice the national average rate, a new study shows. In addition, the study found a correlation between a high environmental exposure to glyphosate and an increased frequency of reproductive disorders (miscarriage and birth defects).
The research was led by Dr Medardo Avila-Vazquez, a physician who has spearheaded investigations into the health of populations exposed to glyphosate herbicide spraying on GM glyphosate-tolerant soy and maize, and was carried out in the town of Monte Maíz.
The study was divided into two parts: an epidemiological study consisting of a household survey investigating the incidence of miscarriage and birth defects; and an environmental analysis, recording the various sources of local pollution and measuring the levels of commonly used pesticides in soil, water, and piles of stored grain husks. The pesticides measured were glyphosate, its metabolite AMPA, and chlorpyrifos, endosulfan, cypermethrin, atrazine, 2,4-D, and epoxiconazole. These were chosen because they are commonly used on crops in the region.
The authors note that in Monte Maíz, GM soybean and corn crops use 10 kilograms of glyphosate per hectare per year. In the region as a whole, 650 tonnes of glyphosate and 975 tonnes of all pesticides are sprayed each year.
In the environmental analysis, glyphosate was found in 100% of soil and grain husk samples. The concentration was 10 times higher than that of the other pesticides studied (3868 ppb), compared with endosulfan II (337.7 ppb) and chlorpyrifos (242 ppb). Pollution with glyphosate and to a lesser extent with other pesticides was found to be the predominant environmental contaminant in Monte Maíz.
The rate of miscarriage in Monte Maíz over 5 years (10%) was three times higher than that reported in a national analysis conducted in 2005 for the National Health Ministry and also higher than that found in a social health survey conducted in 2016 by the same team of researchers in a neighbourhood of Cordoba, according to the published paper.
The authors note that this increased prevalence is consistent with the findings of a previous study that detected a miscarriage rate of 19% in the farming village of Las Vertientes (Cordoba, 180 km from Monte Maiz). In addition, the Ontario Farm Family Health Study found a miscarriage rate of 18.7% in farm families, with a significant risk for preconception exposure to glyphosate.
In Monte Maiz, neither maternal age, smoking or poverty could explain the high rate of miscarriage.
Birth defects identified in the study include abnormalities of the nervous system, genitals, limbs, kidneys and urinary system, digestive system, heart abnormalities, and cleft lip.
The authors caution that the research, in common with all epidemiological studies, shows a correlation between glyphosate exposure and reproductive harm but does not prove a causative link. Causative links can only be shown by controlled animal studies.
The research appeared in the same month as a study based in Indiana, USA, which correlated glyphosate herbicide exposure with shortened pregnancy length Environmental exposure to glyphosate and reproductive health impacts in agricultural population of Argentina
Medardo Avila-Vazquez, Flavia S. Difilippo, Bryan Mac Lean, Eduardo Maturano, Agustina Etchegoyen
Journal of Environmental Protection, 2018, 9, 241-253 http://www.scirp.org/Journal/PaperInformation.aspx?PaperID=83267
Argentinautilizes 240,000 tonnes /year of glyphosate.. now reproductive disorders seem to prevail. ..reproductive disorders in a typical argentine agricultural town (Monte Maíz). An ecological study was developed with an environmental analysis of pollution sources including measurements of glyphosate and other pesticides and a cross-sectional study of spontaneous abortions and congenital abnormalities prevalence. Glyphosate was detected in soil and grain dust and was found to be at an even higher concentration in the village soil than in the rural area; 650 tonnes of glyphosate are used annually in the region and manipulated inner town contaminating the soil and dust in suspension of the town creating an burden of environmental exposure to glyphosate of 79 kg per person per year. We do not find other relevant sources of pollution. The spontaneous abortion and congenital abnormalities rates are three and two times higher than the national average reported by the national health (10% vs. 3% and 3% - 4.3% vs 1.4% respectively). Our study verified high environmental exposure to glyphosate in association with increased frequencies of reproductive disorders (spontaneous abortion and congenital abnormalities) in Argentine agricultural village, but is unable to make assertions cause-effect. Further studies are required with designs for such purposes.
Image: Camila Veron, aged 2, born with multiple organ problems and severely disabled, in Chaco province, Argentina  https://www.gmwatch.org/en/news/latest-news/18245-argentine-study-links-glyphosate-herbicide-to-miscarriage-birth-defects